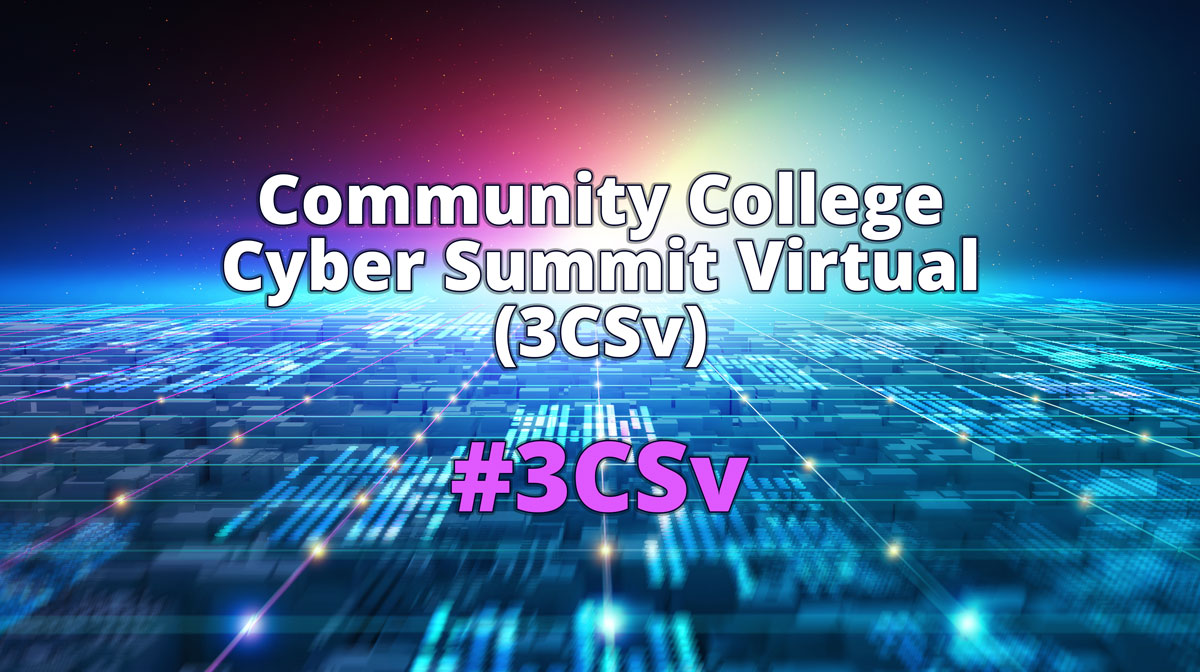 Community College Cyber Summit Virtual (3CSv)

March 1, 2021
11 am - 1 pm ET and 3 pm - 5 pm ET
During 3CSv, community college educators will come together to collectively embrace and behold the future that lies ahead in the community college cybersecurity sphere during this interactive opportunity.
3CSv Event Registration Opens February 8th.
Call for Proposals

3CS is soliciting proposals for focus group sessions at the 2021 Community College Cyber Summit's Virtual Conference (3CSv). Please submit one or more proposals to share your cybersecurity experiences and expertise with your colleagues, and invite your colleagues to do likewise. Proposals for the Facilitated Online Focus Group sessions are due by 11:59pm ET, February 1st. Should you have any questions concerning the 3CS Proposal and Acceptance process, please contact us at .
​
Before starting on the proposal form itself, read through the below guidelines concerning the tracks at this year's 3CSv collaboration and training event and the intended audience.
Proposal Submission Deadline is February 1, 2021
TRACKS

Track 1: Facilitated Online Focus Group
"Focus groups are designed to facilitate the expression of thoughts and attitudes in open-ended questions, providing an opportunity to hear voices 'behind the numbers'." (NDI, 2006). Focus group sessions should examine issues involving multiple stakeholder groups who are debating the goals, success factors (objectives), and effective practices for successful mitigation or resolution of challenges, opportunities, or dilemmas facing the cybersecurity community. A focus group session proposal will include a problem definition, an initial list of open-ended questions, and brief bios of recruited group members that will participate in a session also open to limited public participation. Focus group sessions lasting 45-90 minutes will be limited to 15 participants to foster highly interactive and participative dialogue.
Track 2: Program Development Workshop
These 45-90-minute workshops focus on how to develop or enhance a cybersecurity program. Topics focus on preparing for accreditation, designation, or recognition for cybersecurity programs or program participants. What are employers looking for, and how can educational institutions transform their offerings to respond to those evolving needs? Topics might include planning frameworks, implementation guides, or model curricula for workforce development, middle-skills occupations, extra-curricular programs, summer camps, articulation agreements, new certificate/degree offerings, and cloud-based lab solutions.
​
INTENDED AUDIENCE

​Will your session appeal mostly to people new to the cybersecurity field, journeyperson professionals, advanced practitioners, or a general audience?
​​
SIGN UP FOR THE 3CS NEWSLETTER: